LAHORE: Punjab police have decided on Friday to detain senior Pakistan Muslim League-Nawaz (PML-N) leaders, including former railways minister Khawaja Saad Rafique, ahead of PML-N supremo and convicted former prime minister (PM) Nawaz Sharif's arrival.
Punjab Inspector General of Police (IGP) Dr Syed Kaleem Imam has reportedly written to the Lahore deputy commissioner (DC) and ordered the detention of at least seven senior PML-N leaders and one leader's house arrest for 30 days.
Party leaders to be detained also include Saad Rafique's brother Salman Rafique, Bilal Yasin, Malik Saiful Malook, Mian Marghoob, Waheed Alam Khan and Khawaja Imran Nazir.
PML-N leaders may disturb the peace of the city, the order reportedly reads.
Moreover, a letter from Punjab government is circulating on social media where the Interior Ministry has been requested to switch off the mobile phone services in certain areas of the metropolis that include, Lahore airport, Walled City area, Shadra and Bari/Hadyara area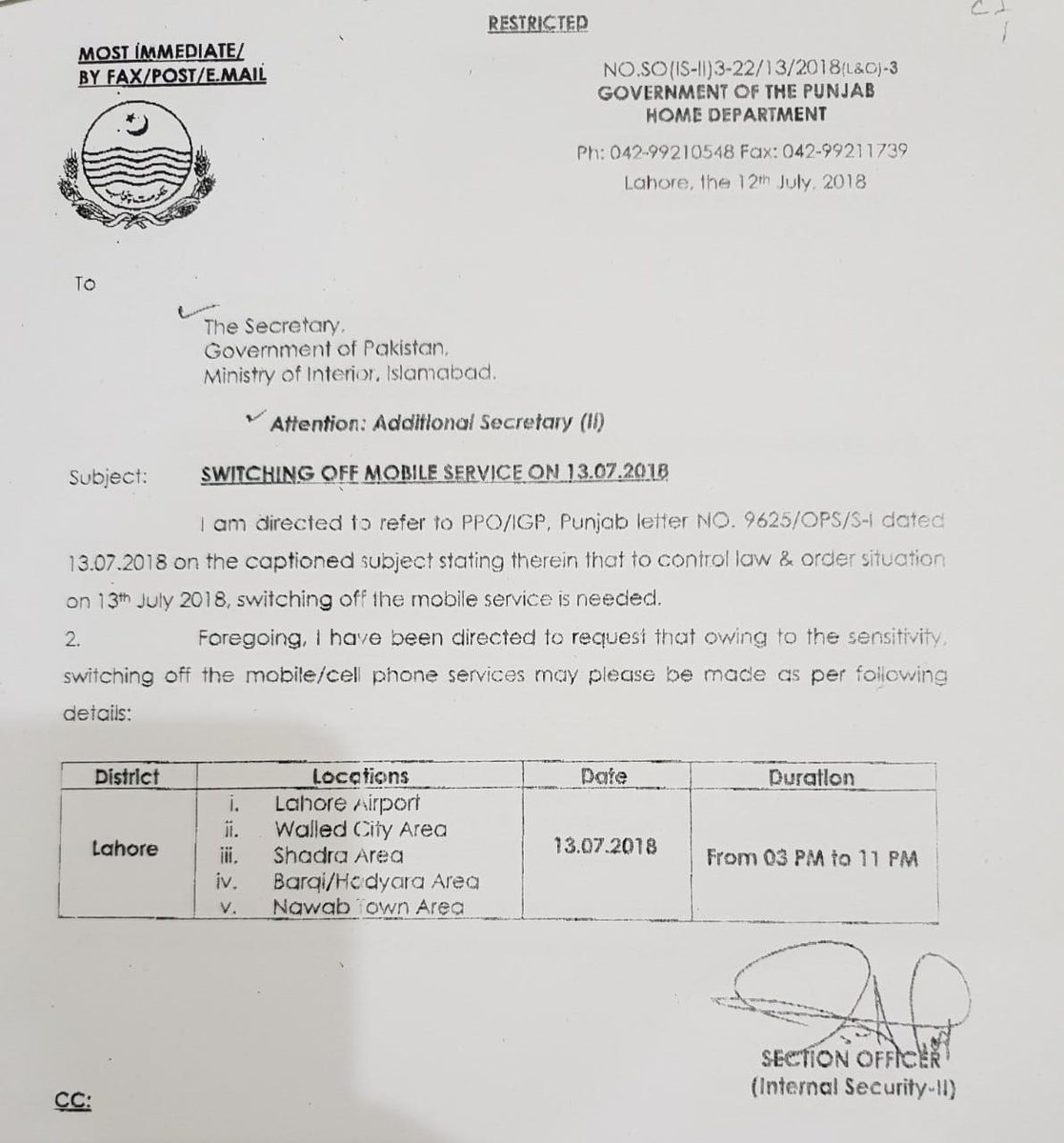 The services will remain suspended from 3pm to 11pm. It has further been reported that the services have been suspended in different parts of the city already.
Earlier in the day, the Lahore High Court (LHC) directed the authorities concerned to release all illegally detained Pakistan Muslim League-Nawaz (PML-N) workers by 2pm.
Former Punjab chief minister (CM) and PML-N President Shehbaz Sharif claimed that at least 400 party workers had been arrested and detained from Rawalpindi and Lahore.
The former CM also termed the arrests ahead of the convicted former PM's arrival as "naked pre-poll rigging."
Justice Anwarul Haq, during the hearing, asked Punjab IGP Dr Syed Kaleem Imam and the Punjab home secretary if they had a list containing the names of the detained persons.
The court observed, "Any actions that disturb the system should not be taken."
Moreover, the Punjab IGP claimed that the arrests had been made in light of an anti-terrorism move.