LAHORE: The Red Devils are proving their doubters wrong with strong showings in this world cup, winning every single game of the group stages fairly easily and consequently topping Group G ahead of England. The only scare they have had so far was their Round of 16 game against Japan who took the lead early in the second half and and immediately doubled it. But the Belgians showed immense backbone and character to overturn the opposition's lead and win the game 3-2, a feat that has not been seen at the grand stage of football since 1970.
⚽ Quarter-finals here we come !! ?

We believed in ourselves until the last minute ! #REDTOGETHER with our fans @Fanclub1895 ! Looking forward to face @CBF_Futebol #BRA

? Friday in #Kazan ??#WorldCup#BELJPN pic.twitter.com/Rx96Hzo5qH

— Belgian Red Devils (@BelRedDevils) July 2, 2018
Perhaps the best achievement of The Belgium National Team so far has to be their strong showing against the favorites Brazil. A fiercely contested battle between world class talents, boiled down to the heroics of Belgian Giant Thibaut Courtois who singlehandedly kept two of the most expensive players (Neymar Jr, Philippe Coutinho) of all time for the in check for the better part of 90 minutes.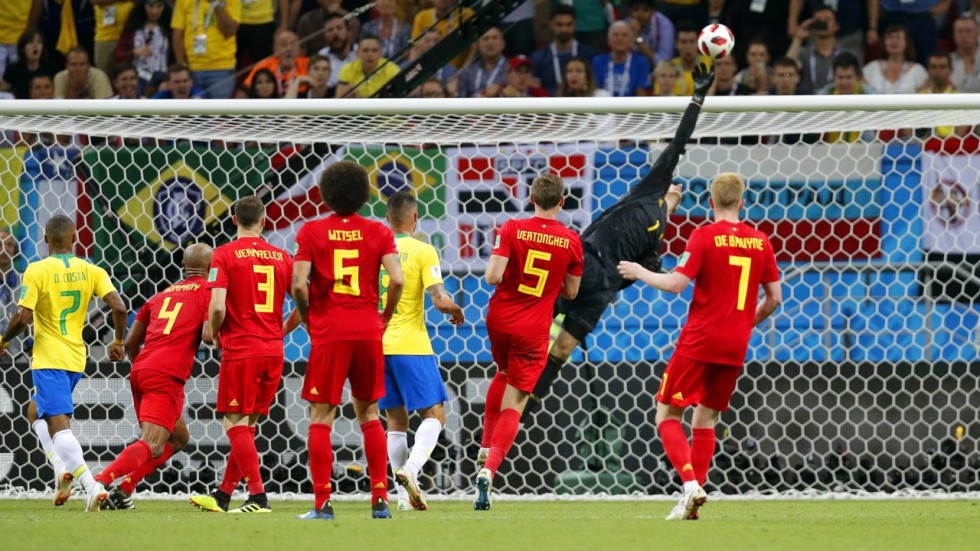 For a lot of the major tournaments past, the Belgium national team has seemed like real class on paper but the players failing to leave a mark in any of their outings curses them to be dubbed as "dark horses" for the next tournament. This was the fate the team suffered in Euro 2012, World Cup 2014 and Euro 2016.
The one glaring miss in Belgium's story in the world cup is the absence of perhaps the most complete player in world football – Radja Nainggolan, with manager Roberto Martinez saying "Radja Nainggolan is a top player. The reason is tactical. In the past two years the team has worked in a specific manner. Other players had those roles. We know Radja has a very important role in his club and we cannot give him that role in our squad."
When announced, the decision was controversial to say the least with massive uproars from fans and a twitter melt-down, but in hindsight the gamble has been paying off so far with a partnership between Kevin De Bruyne and Axel Witsel proving to be instrumental in Belgium's world cup effort so far and even Marouane Fellaini performing up to scruff when called upon.
This is without a doubt the golden Generation of  the Belgium national team with bags of world class talent at their disposal, backed up by their run of positive results and them boasting the best goal difference of any team in Russia.
Maybe it's time we stop calling Belgium the "dark horses" and call them the favourites instead.