RUSSIA: With the round of 16 finally over, we now move on to the quarterfinals of the 2018 FIFA World Cup! The first match between Uruguay and France will kick off at 7:00 pm at on Friday the Nizhny Novgorod stadium in Russia.
Uruguay:     
One of only three teams that had a flawless group stage campaign, not losing a single point and even defeating hosts Russia, 3-0 in their last group stage fixture. Uruguay, who faced off against Euro 2016 winners Portugal, have been in blistering form since the start of the tournament. Fielding the likes of Luis Suarez and Edinson Cavani, scoring goals is the least of their worries. Uruguay's defence has perhaps been more fearsome than their attack, even keeping out the likes of Cristiano Ronaldo in their last 16 fixture.
France:
The French finally lived up to expectations, overcoming a 2-1 Argentine lead and ending the match 4-3 in their favor after two spectacular goals from Mbappe and an unstoppable volley from Pavard. The French had been underwhelming in attack since the start of the tournament, however, it looks like they've awakened after almost losing to Messi and company in the round of 16. France has a wealth of talent in their squad, so there's no doubting the quality of the French players. Hopefully, Les Bleus will be able to play at the same level in their match against Uruguay.
Team news:
Uruguay's hero against Portugal, Edinson Cavani may have to sit this match out after we saw him limping off the field in their last fixture. A disruption in the lethal strike partnership between Suarez and Cavani will make France's work much easier, although it isn't confirmed yet whether Cavani will miss the match.
The French team's left back Benjamin Mendy is likely to miss this class as he's out with an ankle injury. France although do have reserve left backs and will persevere even if Mendy's absence means a greater threat from the Uruguayan attack. Pavard impressed in the last match so it is likely he will start again.
Uruguay Expected XI: Muslera, Caceres, Gimenez, Godin, Laxalt, Nandez, Torreira, Vecino, Rodriguez, Bentacur, Suarez
France Expected XI: Lloris, Pavard, Umtiti, Varane, Hernandez, Kante, Pogba, Matuidi, Griezmann, Mbappe, Giroud
Head to Head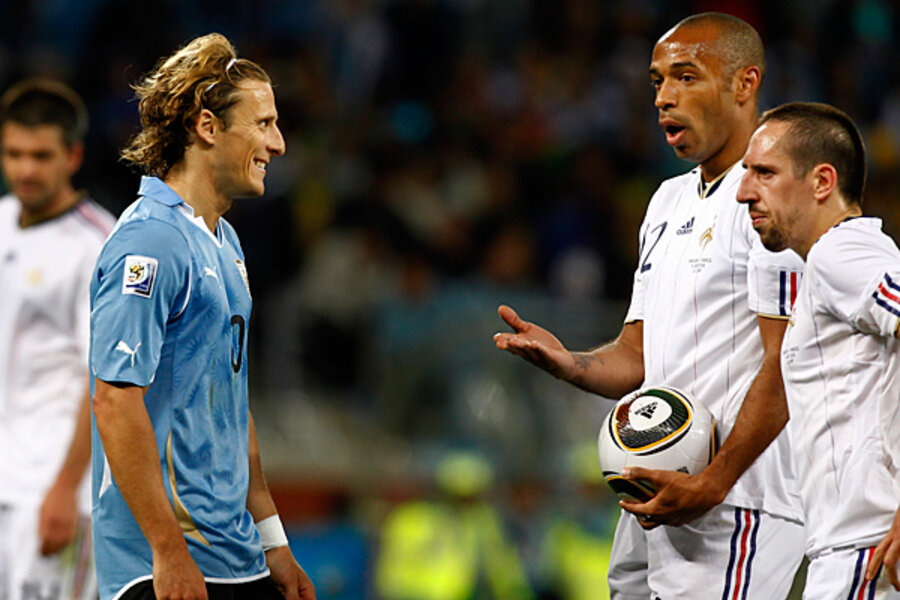 France may look stronger than the South Americans on paper, however, their last 5 meetings tell an entirely different story. France and Uruguay have drawn 4 times, with Uruguay taking the only win out of their meetings. France has not been able to defeat Uruguay despite their extremely talented squad. Will we see a continuation of this on Friday? Or will France even statistics by stealing the win this time?
Key battle: Griezmann vs Godin
Godin and Griezmann are two players that play for the same club and know the mindsets of each other, this battle may very well decide the match. Griezmann does have Giroud and Mbappe to help him get through the defence and Godin has Jimenez who also plays for the same domestic club, to help him stop the French attackers.
Predicted Scoreline: France 3-1 Uruguay
France can overwhelm Uruguay due to the sheer quality of the players in their squad, France are the clear favorites for this match and Uruguay the underdogs, but if Spain can lose to Russia and World cup champions Germany can get knocked out in the group stages, then we can surely expect Uruguay to turn the tables on the French on Friday as well.