LAHORE: The group stages are finally coming to an end now that teams like Russia, Spain and Portugal have qualified for the knockout stage. Matchday 14 features four matches from the teams of group E and group F.
Group F: The first two matches of the day kick off at 7:00 pm. Second-placed Germany go up against last-placed South Korea. South Korea will want to go home with at least one win since they failed to win or even draw any of their fixtures, while the Germans will want to make up for their loss against Mexico by beating South Korea and assuring qualification. Sweden and Mexico go up against each other at the same time, Group leaders Mexico only have to worry about maintaining a higher goal difference than either Sweden or Germany, which will assure that they qualify even if they are to lose their match against Sweden.
Group E: Brazil face Serbia at 11:00 pm, the Serbians are placed 3rd in the group, however, the difference between 1st and 3rd is that of just one point. Brazil who are first placed are only first because of a higher goal difference than second-placed Switzerland. Switzerland vs Costa Rica also takes place at the same time, Costa Rica have no way of qualifying, however, they too like South Korea in group F will want to end their world cup with a win. The Swiss on the other hand will want to take this opportunity to get all 3 points so that Serbia doesn't take their place in the knockout stages.
Match preview: Out of the 4 matches today, the one that looks to be a fixture that could decide who this world cup goes to is Brazil vs Serbia.A loss for Brazil could mean the end of their world cup. The match takes place at 11:00 pm at the Spartak stadium in Russia.
Brazil: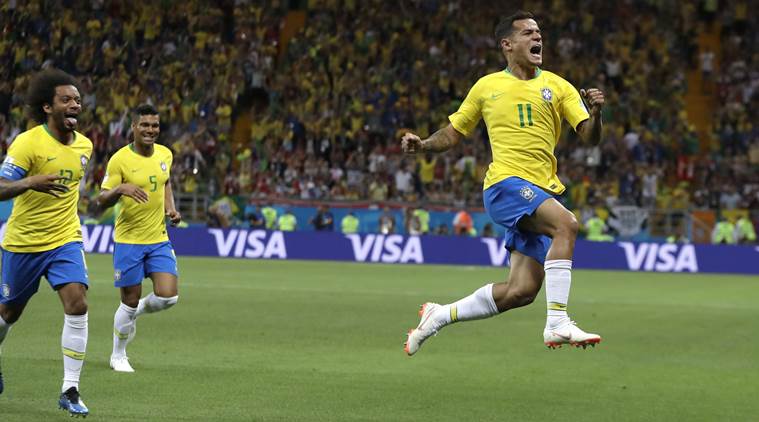 The 5-time world champions have been very unpredictable this world cup, their star man Neymar catches the eye of the opposition's defense but who really shines for Brazil is Coutinho. Brazil will be without the services of their right back Danilo and winger Douglas Costa, as they are both out with injuries. Although Serbia still have much to fear from this Brazil side dubbed as favorites to win the world cup. Having fast paced wingers and wing-backs, we can surely expect Brazil to penetrate the Serbian defense and play fast paced attacking football.
Brazil expected XI: Allison, Fagner, Miranda, Thiago Silva, Marcelo, Casemiro, Paulinho, Coutinho, Neymar, Gabriel Jesus, Willian
Serbia:
Serbia's midfield not faltering is key to them winning this match. Sergej Milinkovic-Savic and Nemanja Matic, both standing at 6 ft 3 inches and 6 ft 4 inches respectively are two men the entire nation has placed their hopes on. The Serbians have in attack Aleksander Mitrovic, who will prove to be a hindrance for Brazil when it comes to aerial battles. Aleksander Kolarov and Branislav Ivanovic will contribute to the game not only with experience but also as set-piece experts, the first game against Switzerland saw Aleksander Kolarov convert a free kick in the second half of their first match against Costa Rica. Serbia are indeed fearsome opponents for any team in this tournament.
Serbia expected XI: Vladimir Stojkovic, Branislav Ivanovic, Nikola Milenkovic, Dusko Tosic, Aleksandar Kolarov, Nemanja Matic, Luka Milivojevic; Dusan Tadic, Sergej Milinkovic-Savic, Adem Ljajic, Aleksandar Mitrovic
Key battle:
If Serbia have taken notice of how Brazil play, they will surely want to try to keep Coutinho from getting the ball at all even more than Neymar. Brazil, on the other hand, will try to avoid corners and set pieces due to the outrageous average height of the Serbians, making them the tallest team in the competition.
Weakest links: Brazil have an extremely attacking style of play, which leaves them open to counter attacks as even their full-backs charge towards the opposition's goal. Serbia are an aging side, so they may face stamina problems when dealing with the agile Brazilian forwards.
Predicted scoreline: Brazil 2-1 Serbia
Despite the Brazilians not living up to the pre-tournament hype, the Brazilians are still a superior side compared to the Serbians. However, should Sergej Milinkovic-Savic perform well he could completely change the flow of the game.