LAHORE: This Eid, we are all set for the release of the much-awaited Mahira Khan-Sheheryar Munawar starrer 7 Din Mohabbat In. Ever since the launch of the trailer, the anticipation for the release has been over the top. From the colourful shots to the light humour, the trailer definitely did look interesting; we can only hope the film does justice to it.
7 Din Mohabbat In follows the story of a young man, Tipu, who is on a quest to find his true love. A desi fairytale, one could say.
Not only that, with the whole debate on the 'revival' Pakistani cinema, this is going to be another movie added to the list.
The movie is set to release this Eid ul Fitr and one thing that stands out in 7DMI is its stellar supporting cast. Mira Sethi, Amna Ilyas, Danish Maqsood and Hina Dilpazeer are all set for the show as well.
Pakistan Today had a little chat with Sheheryar aka Tipu to get a little insight of what one might expect from 7 Din Mohabbat In.
Pakistan Today (PT): Tell us something about your role in 7DMI?
Sheheryar Munawar (SM): I am playing the role of a 29-year-old under-confident, suppressed and geeky Tipu, who has never had the guts to talk to a woman before. The movie is basically about his journey of how he becomes into an individual who learns to finally open up.
PT: How has the transition been from who you are in real life to Tipu's character in 7DMI?
SM: I am usually an individual who stands up against something and does not stay quiet. Thus, putting the 'nervous energy' and harness it into the character was very challenging. Moreover, trying to pick up the physical attributes was difficult, yet interesting as I had to make them my very own and make it look real.
Having said that, playing shy was comparatively easy as I am an introvert in real life.
PT: Tell us about working with Mira, Mahira and Amna
SM: It was amazing. All the three women are strong independent individuals; moreover, they have very strong personalities and different styles of working. So not only was it challenging for me as an actor but very interesting as well, because I had to be able to keep my same arc with the character and then interact with these ladies and their working styles. It made my role a lot more challenging to be able to give a different kind of chemistry with each one of them.
PT: How did you end up signing the film and how was the experience working with Meenu and Farjad?
SM: I have been a big fan of Meenu and Farjad after I watched 'Zinda Bhaag'.
When they sent the script across, I was already interested as I wanted to see what they have in store. Following this, I read the script and knew this was it because Fasid Bari had beautifully written it.
Fifteen minutes into the narration, I had goosebumps and told Meenu that I have a very good feeling about the movie.
In terms of working with the two, they are the easiest to work with, I would say. They let you give in your two cents and then we worked well because there was a good understanding between us, which developed over rehearsals.
I worked closely with Meenu and with time, both us of understood how the other one works, which is very important when people work closely otherwise things are a disaster.
PT: You have worked with Mahira before in Ho Man Jahan and again in 7DMI, how has your relationship as friends, colleagues evolved over time?
SM: Our relationship works amazingly well. It is very important to have a good bond with someone who you are working with. Therefore, I can easily say I would love to work with Mahira again.
Moreover, the roles and requirements for the first film were completely different from the chemistry required for this one. Moreover, for 7DMI, the characters of Neeli and Tipu were very defined and weren't very close to our personal lives. Therefore, it was something fresh and challenging for us this time around. Hopefully, for the audience as well.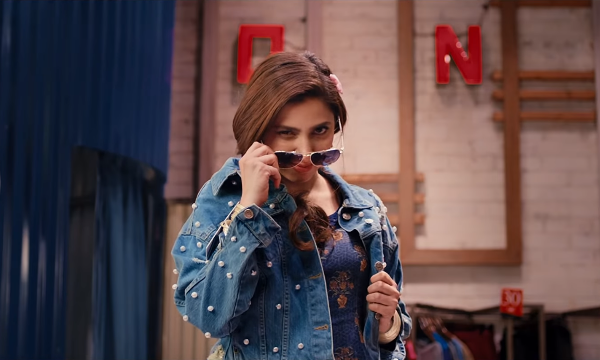 PT: How do you think you have evolved as an actor over the years?
SM: I am my biggest critic. I always thrash myself whenever I watch myself on the screen, but I feel that generally in terms of work I have become very focused.
PT: Considering how there are numerous controversies going on including the Meesha-Ali controversy, how important do you think it is to voice out your opinion on social media, especially for celebrities.
SM: For those who have been following me know that I make a conscious effort to stay away from controversies, but that does not mean I will stay quiet if need be; then again it is only in extreme cases. This is because as a public figure, there is a lot of responsibility in those regards to say something in a way that will have a positive effect on everybody out there.
However, social media is a powerful tool; it can empower a lot of people, but at the same time, also hurt them. Thus, one has to be very careful about these things and try to resolve these issues, if possible, before making them public.
PT: What should one expect from the movie 7DMI?
SM: It is a wholesome family entertainer. People should be walking out of the cinema with a nice smile on their face and a good feeling in their hearts. Having said that, hopefully, there will be no cringe-worthy moments because very have tried to keep it very clean.
PT: Upcoming projects?
SM: In September I am going to start working on 'Parey Hat Love' with Asim Raza. I am also producing the movie, so I am very excited about that.