Earlier this year, there was a cute announcement and a heads-up for the audience to save the date for the biggest wedding of the year.
It was none other than Nabeel Qureshi and Fizza Ali Meerza's next project 'Load Wedding' that is set to release this Eid ul Azha.
The announcement was a little out of the ordinary as a mehndi-style basket packed with mithai hit was delivered to our doorstep. After almost mistaking it for a wedding invite, the card dangling from the hem read the name of the movie. One could easily tell that as creative as the announcement was, one can only expect it to be the most-talked-about wedding this season.
The film will feature Fahad Mustafa and Mehwish Hayat as its lead pair. The on-screen couple was last seen in Actor In Law.
Thus, as we wait for the wedding, the preparations have already begun. Just yesterday the 'first look' of Load Wedding was rolled out on all social media platforms.
The 'look' featured Fahad Mustafa donning a moustache and wearing a red scarf that reads 'SORRY' as he walks through a bazaar (market).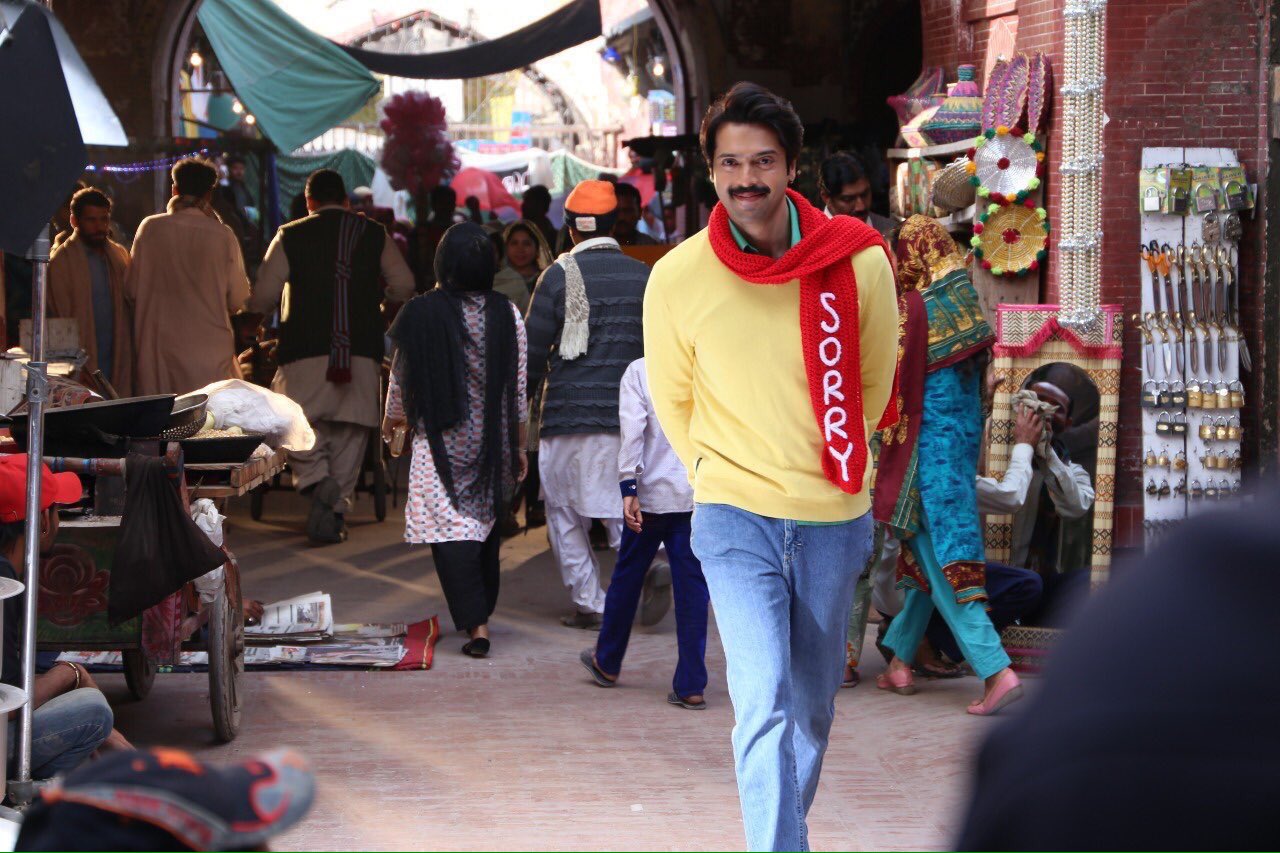 From what we assume, it could only mean that lover boy made a terrible mistake and is looking to apologise to the lady he is wooing.
The first look at the picture and we thought the Fahad, right here, reminded us of King Khan.
Is it just us, or is he giving us some major Shah Rukh Khan vibes from Mohabbatein? Replace the sweater with the red scarf of course.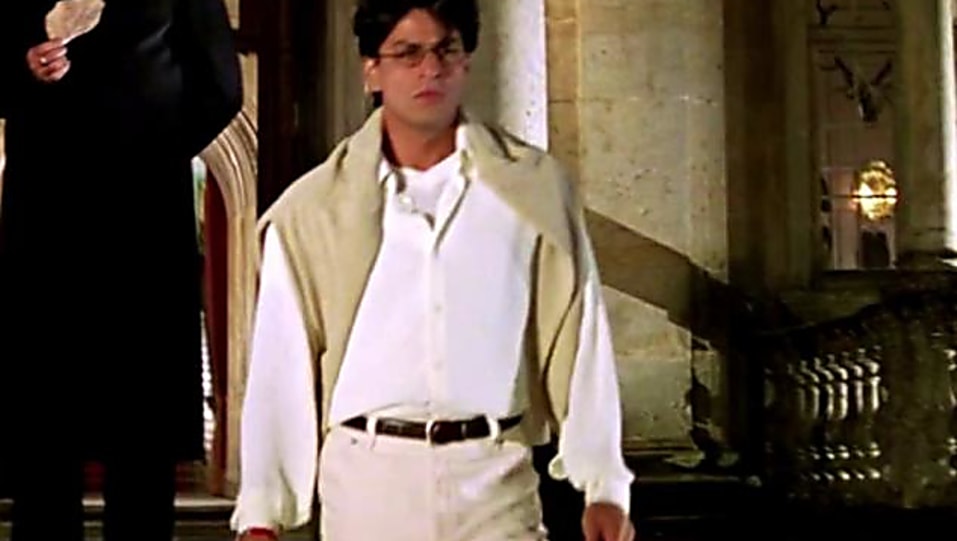 Maybe just a little? Or Aamir Khan from Fanaa?
We'd like to think there is more of an SRK resemblance rather than Aamir Khan.
As soon as the picture was released celebrities and fellow Twitterati shared their first thoughts about the picture and anticipation for the upcoming movie.
First look of #LoadWedding . Can't wait to watch @fahadmustafa26 once again to create his magic. Good luck boy!!!! pic.twitter.com/bOKyyESwz2

— Imran Abbas (@ImranAbbas) June 6, 2018
Oye hoye! @fahadmustafa26 #Loadwedding
P.S your scarf should have said – you're welcome 😉 pic.twitter.com/j2I0kYCb0c

— Mahira Khan (@TheMahiraKhan) June 6, 2018
Here is the first amazing look ? of my bhai @fahadmustafa26 for his new film #LoadWedding Good luck bhai.Looking iconic #FahadMustafa pic.twitter.com/rhv0oCGR9W

— Kamran Akmal (@KamiAkmal23) June 6, 2018
Load shedding ka to pata nahi lakin #LoadWedding ki khabar aai hai… first look of @fahadmustafa26 from the movie #LoadWedding. best of luck Fahad bhai !! pic.twitter.com/C6Sd8COQc2

— Iqrar ul Hassan Syed (@iqrarulhassan) June 6, 2018
I'm soO excited for #LoadWedding ??
Best Of Luck Brother ?✌❤@fahadmustafa26
Here's the first loOk of FAADII❤? pic.twitter.com/dHEF7XQ6kZ

— J. (@JiYaKhan999) June 6, 2018
First look of #LoadWedding is here one thing I can say for sure that it will be another hit movie InshaAllah All the very best @fahadmustafa26 @nabeelqureshi @MehwishHayat and entire cast .. pic.twitter.com/nl3RwW1yFP

— Anoosha Khan (@AnooshaKhan18) June 6, 2018
Count down begins to #LoadWedding first look of @fahadmustafa26 from the movie #LoadWedding. best of luck Fahad pic.twitter.com/GRXRh9ACjH

— Danish Khawaja (@DanishKhawaja) June 6, 2018
This man has a vast experience that how to put vigour in a dull script. He is so much dedicated to his job which is why he rules over industry. I wish all the best to #LoadWedding to be blockbuster like previous ones. @fahadmustafa26 pic.twitter.com/T1GsxdCy6p

— Z A H I D. (@ZkhanSafi) June 7, 2018
First look #loadwedding lot of wishes
Ap toh cha gay hain@fahadmustafa26
First look hi itni kamal ki h movie toh blockbuster ho gey❤❤??
Inshallah ?? pic.twitter.com/0oVZGa1JAT

— pehlaajhassan (@pehlaajhassan20) June 6, 2018
REAL LOOKING FORWARD FOR @fahadmustafa26 NEW MOVIE #LoadWedding . I REMEMBER THE LAST HE MADE NA MALOOM AFRAAD 2
WAS ABSOLUTELY PREFECT THAT MOVIE SHOW ME THAT PAKISTAN FILM INDUSTRY CAN MAKE RECORDS LOOKING FOR YOUR NEW LOAD WEDDING PRAY FOR YOU SUCCESS IN THIS MOVIE

— Shajar Hussain (@ShajarHussain55) June 7, 2018
What are your thoughts?