BRISBANE: A pulsating Ashes opener that had promised a grandstand finish will more than likely end early with a handsome win to Australia after Steve Smith's side pushed within 56 runs of victory at the close of day four on Sunday.
The teams will return to the Gabba on Monday to go through the motions, with Australia openers David Warner and Cameron Bancroft looking to mop up the winning runs after protecting their wickets with aplomb after tea.
Australia were 114 without loss at stumps, with Bancroft (51) celebrating his maiden half-century in his test debut after vice-captain Warner (60) raised his 25th as shadows crept across the ground.
"Obviously a great day for our team, to finish the way we did with the bat, none down with 56 runs to get," Australia paceman Mitchell Starc told reporters.
"Heading over to (the second test in) Adelaide, England will have to chase us.
"I'd rather be in our changeroom than theirs."
The denouement happens on Sunday but the game broke open after lunch, however, when England's middle order suffered a ruinous collapse for the second time in the match.
The loss of captain Joe Root for 51 before the first break was a blow but there was still hope as Moeen Ali and Jonny Bairstow drove England to 155 for five.
From there it went sour as the tourists fell for 195, the capitulation triggered by a third umpire decision that may be debated for years to come.
Having breezed to 40, Moeen was beaten by spinner Nathan Lyon and wicketkeeper Tim Paine whipped the bails off in a flash.
The all-rounder's foot was planted squarely on the line and long, tortuous deliberations followed as New Zealander Chris Gaffaney pondered various angles.
None of the footage showed Moeen's foot safely behind the line, so Gaffaney sent him packing.
It was Lyon's third wicket of a fine test for the offspinner and England's breaking point after three days of mostly valiant cricket.
They lost 4-40 and their last three wickets for 10 runs as Starc awoke to trample on their wafer-thin hopes.
All-rounder Chris Woakes added 30 runs with Bairstow but his uneasy 57-ball knock ended on 17 when caught in the slips by Smith after being worked over by a short ball from Starc.
Left to carry the tail, Bairstow instead threw away his wicket for 42 with a ramp shot over the slips that went straight to third man.
Stuart Broad was Starc's third victim four balls later when he feathered a nick and Pat Cummins wrapped up England's innings with another bouncer that harried Jake Ball sent to fly slip.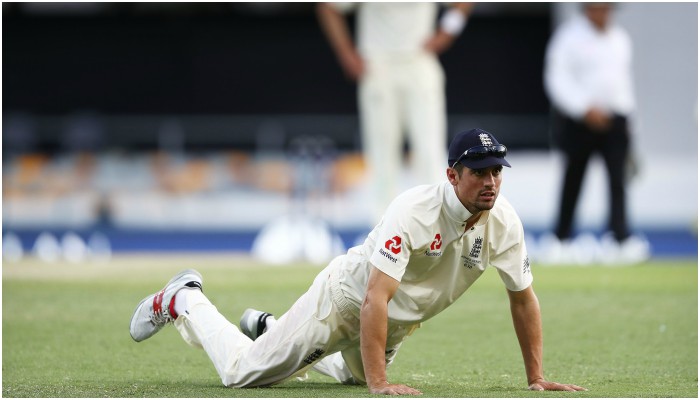 Smith's epic, unbeaten 141 on day three will take on an even greater significance, given the scant contributions of England's batsmen in their second innings.
Root made the only half-century for his team, but it will be a footnote in the match and he concedes an emphatic first-up defeat in his ongoing duel with Smith.
"Obviously very disappointed," said Moeen.
"I thought the first three days we played well and we were in the game and then today we let ourselves down with the bat.
"It was a good pitch to bat on … We got in and never really got on to get that score that we needed."
England's veteran quicks James Anderson and Broad were left to try to pull off a miracle but they washed harmlessly against the wall of Warner and Bancroft, who opened their shoulders after a watchful hour.
In the morning, it was Lyon who turned the screws with two wickets before Josh Hazlewood (3-46) claimed the prized scalp of Root.
After England resumed the day on 33 for two, Lyon had opener Mark Stoneman caught for 27 by Smith at slip.
The spinner and captain combined again when Dawid Malan nicked behind to fall for four.