Mark your calendars everyone as another Pakistani movie is lined up for release on 21st April 2017.
Chalay Thay Saath is a road-trip-slash-romantic-drama, directed by debuting film director Umer Adil, produced by Beenish Umer along with the Executive Producer Sheikh Shiraz Mubashir is among the group of films bringing the breathtaking northern beauty to the big screen.
Syra Shahroz is cast as the lead alongside international actor and filmmaker Kent S Leung. The supporting roles are played by Mansha Pasha, Zhalay Sarhadi, Behroze Sabzwari, and Shamim Hilaly.
Pakistan Today (PT) got a chance to interview Beenish Umer about the upcoming movie, what is in store for the moviegoers and about all the hard work that went into the making of the film.
Why choose the northern areas to shoot the movie?
The northern areas of Pakistan are beautiful which is why they have been featured on screen time and again, as the locations or settings for the songs. The story of 'Chalay Thay Saath' is particularly, about the region as much as it is about the characters.
I would think the location and the environment itself have the standing of a prominent character in the film. The mountains provide a scenic setting but they also contribute much more to the film than the beauty of the location.
How difficult was it to work in the northern areas?
It was challenging for sure, the erratic weather, disconnectivity from the rest of the world, no internet and also in certain areas phone access was limited. Managing travelling and accommodation of a sizeable crew of over a hundred people up in the remote region for over 60 days was also difficult.
Just the task of getting there was a matter of a full 2 days of travel. We had people flying in and out of Gilgit as per requirement, and if you are familiar the flights are also unpredictable. We managed to get there on time and get the work done as per schedule, despite the unpredictable weather conditions.
How was the experience of working with majority film debutants like Syra and Kent S Leung?
They were all superb, they all individually contributed a lot to their characters and everyone worked hard. Syra and Kent both had excellent chemistry despite the tricky onscreen language barrier. Their performances were deep and heartfelt. The audience will have a good experience watching them play their characters as they have done a remarkable job.
Did you face any challenges in casting an international star?
We just wanted to make sure that after coming to Pakistan and working here, if he were to turn back and think of it, he should be taking away the wonderful times, beauty, professionalism and hospitality he got to witness and overcome the wrong misconceptions that are out there about Pakistan
Were there any security concerns that Kent had/faced?
It is generally believed that foreigners in Gilgit are generally safe because it has security as it's close to the border and the local community is tolerant and liberal. However, the arrival of a film crew, which included a foreign actor, did raise a lot of alarm in the security agencies.
We got visited by some of the secret service officers very often. I remember having conversation after conversation with a few of the very inquisitive ones. Thankfully we had the support of a very thorough Production Manager (a local), Najeeb Khan, he had anticipated the same and had acquired all due permits and NOC's before our arrival. After the first 10 days of interrogations and surprise visits on our shooting locations and hotel, the agencies realised we were harmless.
They would still visit and chat over a cup of tea after few days, and we would make sure we inform them of our whereabouts and keep them updated if we were leaving the settlements and going for filming on the roads or near the border. The AC Sami Ullah Farooq was also most helpful and not only accommodated us but also made sure to send out security for us when we filmed in high-risk areas.
Why did you choose a Chinese guy for the role of Adam? Was there a hidden political stance behind this selection?
Hunza lies on the border of China and there is a lot of significant and age-old Chinese influence in the region. One large angle of the story of Chalay Thay Saath is inspired from that, so in other words, the story demanded a Chinese character.
This Pak- China dynamic that we see at the border was striking for the director when he went there years ago, the angle was picked up with great enthusiasm by the writer Atiya Zaidi when we went for a short expedition to focus on story development back in 2015. The intention, however, was never a political stance, but always a sentimental one.
Something interesting that happened on the sets, you'd like for the readers to know?
There are many stories to tell, some of them very dramatic. My mantra as the producer was to prep myself for minimum 3 dramas a day. It was a tough terrain with erratic weather and we ended up shooting some of it in Ramzan.
One of the days we had an elaborate bazaar set up in Karimabad for a sequence where local dancers and musicians lined up. I had to step out to meet the AC and on the way back I thought it would be great to take my kids up there to see it while we were filming. So we climbed the hill from the hotel to the bazaar (it is quite a climb for two 9 and 5-year-olds) and the minute we reached it started raining. A bright sunny day, turned into quite a storm, we had to stop the filming and the actors had to run for cover from the rain and the entire set up got drenched, but we all ended up enjoying the rain.
Do you think there is nepotism in the industry? Does it make it difficult for new and fresh talent to emerge or make a mark in the industry?
Well yes and no, it's a growing industry and a lot of new faces are coming up. Even we don't belong to a media based background in terms of family or connections, but yes we have been working in the industry for the past decade. That said it has been a slow climb and there are times when you see others out there get it easier, then again grass is always greener psychology also kicks in with that statement.
It is difficult, but with the kind of work we do, it speaks for itself. Once it's out there, I believe the work should talk and that is what really matters.
What was the latest equipment/technique used during production and pre-production?
Well, we have shot the film of a top of the line Arri Alexa, with the very talented Shahzad Khan as cinematographer. We opted to go for live sound recording, so most of the sound was recorded on the shoot; which was a challenge in itself as we were shooting outdoor for 90% of the film. We were lucky to rope in Faiz Zaidi, probably the best Production sound mixer in the business here. Our edit and post are being done at Sharp Image and audio post and mixing, however, is being done abroad.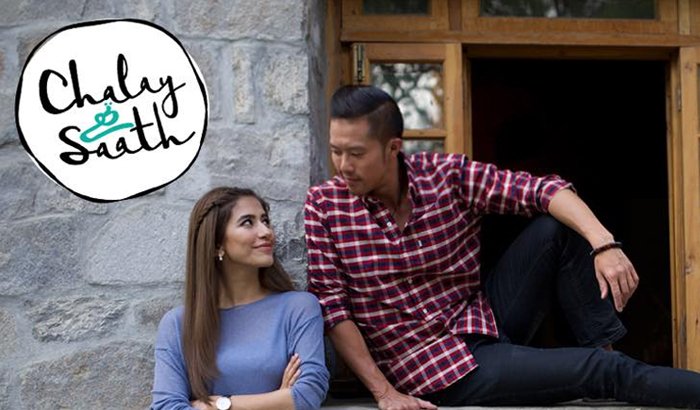 How was it working with your husband? Have you guys worked together before or was it the first?
We have been running a production house for the past ten years together, so we do work well as a team. The scale of this project was much bigger so the time and effort that has gone into it have been immense. When we work on separate projects it is easier to handle home and kids because we tag team it, but with this one, it has been most challenging for our family as we both have had to disappear for the same things at the same time.
Our families and friends have pitched in with constant support for us and I know I would never have been a part of such an intense undertaking if our support system had not been in place.
How many spells did it take to make the entire movie? Tell us more about it, and the readers about what a spell is?
Spells are basically blocks of filming days back to back. Since our film required travel we ended up dividing it into 4 spells, 3 days in Karachi before we went off to Hunza, 45 filming days in Hunza, 3 days in the studio in Karachi and another 3 days filming China.
How scared are you of Chalay Thay Saath being a success or not, because lately, not many films made it to the top?
It is an anxious time for us, we have put a lot of effort and hard work into the film, we haven't cut corners and tried to keep it original and above all, we haven't underestimated our audience. A lot of the films that have not done well have overlooked story and content, which we have really put a lot into. There are lots of elements to a film's success or failure it is always a combination of things.
How is this going to be different than other Bollywood-inspired Pakistani films?
This film does not have songs and dances; the humour and lighter moments are relatable. The dialogue is real and so are the characters. We have consciously tried to break away from the Bollywood norm but it is surely an attempt to finding an indigenous style of filmmaking.
I just want to say to the readers out there, to give this film a shot and to take out the time and go watch this in the cinema. It is fresh, young and original in content, the actors have all outdone themselves and Pakistan really shines in this one.