Ivanka Trump's brand generally makes the headlines for all the wrong reasons. If companies are not dropping the collection,Donald Trump's senior advisor, Kellyanne Conway, is being accused of violating federal ethics law for making an on-air sales pitch for the line of clothes and accessories.
But it appears the slew of controversies have not had a negative effect on the brand's recent sales. Despite a mounting campaign to boycott President Trump's daughter's line of products, the brand claims it saw record sales in February.
The collection said they had some of the highest performing weeks since the brand was launched last month.
"Since the beginning of February, they were some of the best performing weeks in the history of the brand," Abigail Klem, the company's new president, told Refinery 29. "For several different retailers Ivanka Trump was a top performer online, and in some of the categories it was the [brand's] best performance ever."
Lyst, an e-commerce aggregator which tracks purchasing data from thousands of retailers, told The Independent the brand's sales increased by 346 per cent between January to February of this year.
What's more, it found  February 2017 brand sales had increased by 557 per cent when compared to average orders in 2016. The brand was ranked as no 11 in sales on Lyst for the month of February, a sharp increase from no 550 in January.
"Ivanka Trump brand has never ranked in as a top seller on our site," Sarah Tanner, Lyst's US public relations director, said. "To see such an extreme spike in one month is completely unheard of and came as a huge surprise to us."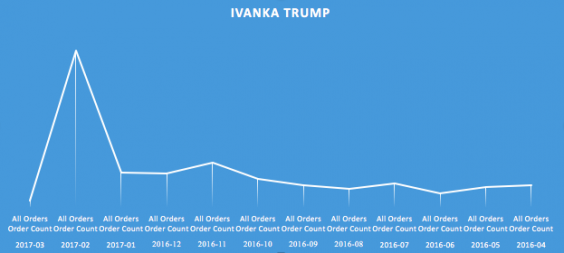 The reason for the increase could potentially be linked to Trump supporters explicitly deciding to purchase the products to counter the boycott.
"I bought a pair of her shoes, they are great and classy just like Ivanka trump. Boycott all stores that drop her line," said one person on Twitter.
"On behalf of the anti Trumper's and boycott Trump products . I Bought Ivanka Handbag. Shoes tomorrow," chipped in another.
The latest figure's come after a Wall Street Journal report from the beginning of February found sales of the range fell by nearly a third in the past financial year with a steep decline in the weeks before her father was elected President.
The Journal cited internal Nordstrom data as showing sales of the products were more than 70 per cent lower in the second, third and fourth week of October compared to the same weeks the previous year. The presidential election was on 8 November.
The Grab Your Wallet boycott campaign (a reference to the President's leaked sexually aggressive 2005 "pussy-grabbing" comments) emerged last autumn and urges consumers to boycott shops which sell products affiliated with the billionaire property developer's family businesses.
Courtesy: Independent