Sadi Ahmed was held hostage for three months by an organ trafficking gang.
In October last year, he was one of 24 people rescued by police in Rawalpindi, Pakistan.
They had been imprisoned in a building in an affluent suburb, awaiting the forced removal of their kidneys.
Three people are due in court later this month.
They deny all involvement in illegal transplants and trafficking.
Police say victims were lured to Rawalpindi in the hope of getting jobs.
They even were tricked into going to court, under the pretence of getting them documentation to work.
Ahmed told the BBC that he was taken to a commercial building, had his phone taken from him, and soon realised there was no job.
The traffickers wanted to test his kidney and told him he would be given the equivalent of 300,000 rupees [£2,300] for the organ.
Ahmed says he was "beaten up, not allowed to go out, we were padlocked in".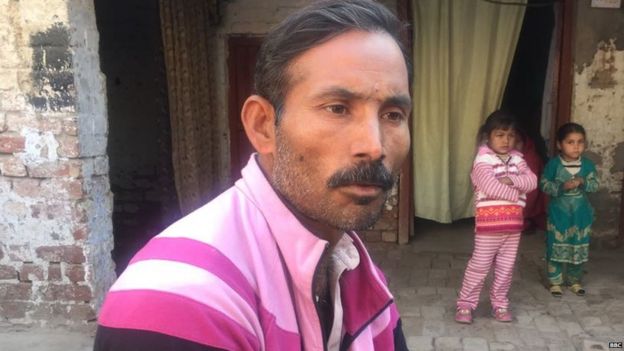 Dr Mirza Naqi Zafar, the general secretary of the Pakistan Transplantation Society, says despite a ban on commercial transplants in 2010, there has been a resurgence in the illegal trade in recent years, with as many as 100 illegal transplants happening every month.
Transplant tourism
He says many of the operations are linked to transplant tourism, with wealthy foreign patients travelling to Pakistan for treatment.
This is driven by a global shortage in organs for transplantation, which allows traffickers to fill the gap between demand and supply.
Dr Naqi Zafar says black market prices for procedures are in the range of $50,000 to $60,000 (£48,000) per patient.
If donors are paid, they receive only a tiny proportion of that.
Zafar Shahab, a man in his 50s, says he had a kidney removed without his consent at the hospital a year ago.
He was told he needed an operation for his own health problems, and "did not have the faintest idea" one of his kidneys would be removed.
Dr Naqi Zafar is part of an informal intelligence gathering network of medics around the world, attempting to stem the illicit trade.
They received emails from the UK, Kuwait, Saudi Arabia, Australia and Canada, reporting that people of Pakistani origin had received transplants at the Kidney Centre and returned home with complications.
He says more needs to be done, calling for a proper system of investigation and intelligence, and that other countries could do more.
Courtesy: BBC