Pat Isringhausen- an American woman converted to Islam and changed her name to Ayesha after falling in love with Pakistan during her several visits.
Ayesha, an American Muslim convert is currently working for the poor in interior Sindh.
Currently, she is staying in Larkana to help her friend establish a clinic/maternity hospital and school in his village, Ali Sain Abad, which is near to Larkana.
In a recent interview, Ayesha revealed how she was a paediatric neurosurgical office but came to Pakistan for her love of the country. Currently, she is in Pakistan and this is her third trip to the country.
According to Ayesha, she sticks out like a sore thumb owing to her blonde hair and her green eyes in Pakistan. Her movements are also restricted compared to the lifestyle she had in America but despite the cultural differences, load-shedding and poor infrastructure, she loves Pakistan. Most probably since the people of interior Sindh are extremely hospitable to her.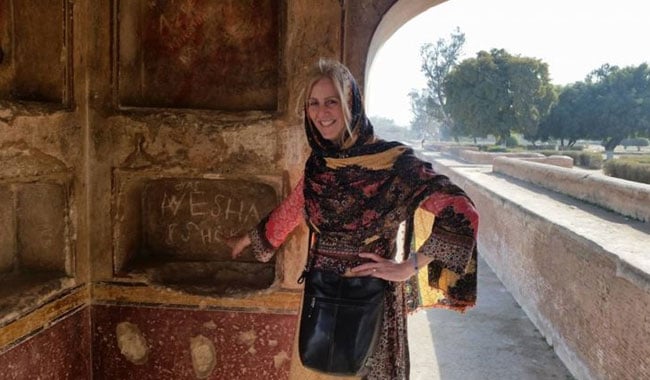 "I walk six to eight miles daily and when I visit the villages, I simply take a walk and when I enter the village, I am immediately taken to different homes and surrounded by swarms of people. They bring me chai, cold drinks, poni, fruit, biscuits, chips, etc. Always trying to tend to my every need," she said.
Apparently, she has done her fair share of travelling and has seen enough of Pakistan than the usual foreigner.
"I have travelled to Islamabad twice, Lahore, Hafizabad, Thatta, Shaddapur, Ali Sain Abad, Tando Adam, Tando Jam, Hyderabad, Karachi.  I go everywhere," she said. "This is just a small list of where I've been in Pakistan. I actually lived in Hyderabad for five months on this trip.  On my second trip to Pakistan, I was in Tando Adam for a month helping the teachers in Sayara Khanum Islamic School to learn English," she added.
"The "real" Pakistan is not the one portrayed by the news media. The "real" Pakistan is the warm and loving people of Pakistan. I have been smothered in love and kindness here," she said.
Ayesha confessed that like every other Pakistani she also finds it hard to resist Biryani. She recommended that tourists planning to visit Pakistan should definitely travel to Islamabad for its breathtaking beauty.