PERTH: A new spot fixing controversy has surfaced in Cricket, this time in the fields of Ashes, which has already seen great drama in the build up to this year's series. England based newspaper, The Sun, alleged on Thursday that two bookies allegedly offered to sell details of rigged periods of play which could bet on to win huge sums.
Cricket chiefs, from both England and Australia condemned the report and voiced "grave concern" on Thursday over The Sun's claim to have exposed attempts to rig the third Test in Perth.
According to details, two bookmakers, including an Indian "Mr Big", there is reason to believe that he is a former Indian player, claimed to have worked on the scam with former and current internationals, including a 'World Cup winning all-rounder'. They said they liaised with a fixer in Australian cricket known as "The Silent Man".
No Australia or England players were named as being involved. The tabloid said their undercover reporters were asked for up to £140,000 ($187,000, 158,000 euros) to "spot fix" markets such as the exact amount of runs scored in an over.
"Before match. I will tell you this over, this runs and then you have to put all the bets on that over," one of the bookmakers was quoted as saying.
Asked if it was a good source, he said: "Absolutely correct information."
ICC brushes away allegations
Alex Marshall, ICC's general manager Anti-Corruption, said: "We have now received all materials relating to The Sun investigation. We take the allegations extremely seriously and they will be investigated by the ICC Anti-Corruption Unit working with anti-corruption colleagues from Member countries.
"From my initial assessment of the material, there is no evidence, either from The Sun or via our own intelligence, to suggest the current Test Match has been corrupted. At this stage of the investigation, there is no indication that any players in this Test have been in contact with the alleged fixers."
Marshall further stated that "the allegations are wide-ranging and relate to various forms cricket in several countries, including T20 tournaments. We will look closely at all the information as part of our investigation."
Cricket Australia said it took a zero-tolerance approach to anyone bringing the game into disrepute.
"The allegations raised by media outlets are of serious concern," it said in a statement, ahead of the third Test starting Thursday in Perth, where England are battling to avoid going 3-0 down in the five-Test series.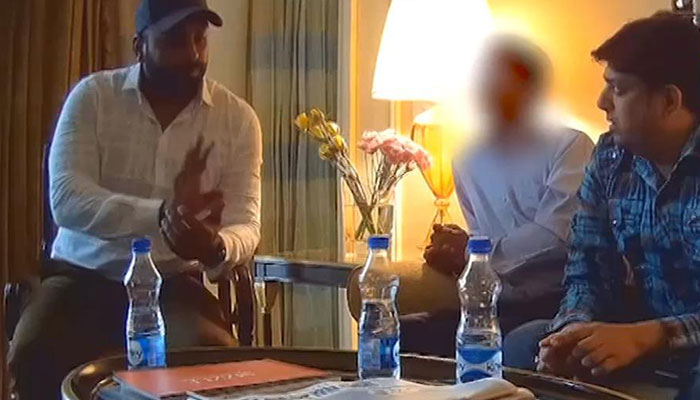 "Cricket Australia will co-operate fully with any ICC Anti-Corruption Unit investigation."
It added that "players are able to report any suspicions they have on a confidential basis and in the past there has been a strong Australian player culture to do so".
The dirty script
The Indian pair — secretly filmed at hotels in Dubai and Delhi during the paper's four-month investigation — claimed corrupt players would signal the fix was on by making a subtle gesture on the field, such as changing their gloves.
Spotters in the crowd then tell bookies who put millions of bets into the illegal Indian betting market.
The Indian fixers claimed they could get players to follow "scripts" – such as how many runs would be scored in a session, or an innings, when a wicket would fall and what a team would do if it won the toss, The Sun said.
"I will give you work in Ashes Test. Session runs. Maybe day one, two, three. We have two session work, one session costs 60 lakh rupees (£69,000), two sessions 120 lakh rupees (£138,000)," it cited one of the men as saying.
"If you are interested (we) will talk to the Silent Man. If you want to go with him alright, but you will not sit in meeting."
The Sun said the men also bragged to their reporters, who posed as financiers for underworld London bookies, that they could corrupt games in lucrative Twenty20 leagues such as Australia's Big Bash and the Indian Premier League (IPL).
They claimed to have carried out 17 to 18 fixes with two IPL teams. Cricket has been dogged by corruption cases in recent years. In February, two Pakistan players — Sharjeel Khan and Khalid Latif — were caught in a spot-fixing scandal which rocked their Twenty20 league held in United Arab Emirates.
They were both banned for five years. More recently, a probe was launched by the ICC into pitch tampering claims against a ground official ahead of the second one-day international between India and New Zealand in Pune in October.