PESHAWAR: Renowned historian and scholar, Dr Sayed Amjad Hussain has suggested declaring the historic Kanishka's stupa in Peshawar as the '8th wonder of world'.
Delivering a lecture titled as 'Kaniskhka Vihara, An Ancient Peepal Tree and A Sacred Begging Bowl here at Victoria Hall of Peshawar Museum, Dr Amjad said the imposing Kanishka stupa which once existed in Peshawar deserves to be declared as 8th wonder because of its remarkable construction structure, being a testament to the creativity of hard work of human beings and finally its mention in the historic books.
Dr Sayed Amjad Hussain, a cardio-thoracic professor at USA hails from Peshawar and has published 16 books on subjects as varied as history, culture, religion and the linguistic and cultural legacy of Peshawar city.
Located a few furlongs outside Peshawar city at Ganj Gate known as Shah Jee Ki Dheri, there is a site where an imposing stupa had once stood which was built during the reign of Kushan Kanishka, says Dr Hussain in his lecture.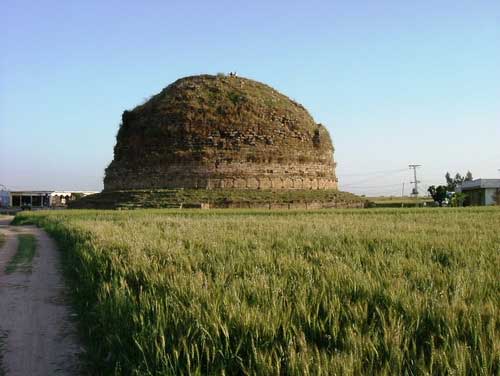 It was described in detail by Chinese pilgrims in their memoir and Hiuen Tsang (Xuan Zang) in particular visited it during his travels in 620AD-645AD and called it the "tallest architectural building" in this part of Asia, he added.
It is estimated, he continued, that the stupa was equivalent to a present day 13 storeys tall building and the adjoining monastery was associated with Buddhist divines of Vasubandhu and Parva. With the decline of Buddhism in the region the traces of the stupa and monastery faded away.
About the religious importance and background of Kanishka stupa, Dr Amjad apprised participants of the lecture that in March 1909, when digging had reached the centre of the base of stupa, D. B Spooner, an American archaeologist first Curator of Peshawar Museum, made a sensational discovery that stirred the archaeological world.
A relic casket in guilt bronze was recovered containing Buddha's bone fragments and ashes, claims Dr Amjad.
The casket was inscribed with Emperor Kanishka's name and figure. The British government later gifted the Buddha's relics to Burma where they are enshrined in the main pagoda at Mandaly while the bronze casket is on display in Peshawar Museum.
The replica of the casket is kept in the British Museum.
"It is awesome that the bone fragments and ashes of Buddha are found from Peshawar at Kanishka stupa," remarks Dr Amjad.
He said Buddha's influence is spread over the entire world and his bone fragments were found from Peshawar at Kanishka stupa and therefore it should be declared as the 8th wonder of the world.
During the lecture, Dr Amjad also displayed a special conjectural painting of Peshawar which is commissioned by the author and created by a renowned American painter.
The painting shows the cityscape with the Peepal tree, the top of Kanishka Stupa and the hilltop monastery (present day Gorkhatri).
Dr Amjad also highlighted historical importance of Peepal tree where Buddha used to deliver preaching lectures to people and Gorkhatri where Kanishka kept the Begging Bowl of Buddha.
Dr Amjad suggested for raising awareness among public and government about the archeological importance of Kanishka stupa.
He said UNESCO should be engaged to declare it as 'World Heritage Site' besides seeking help from Japan and China to acquire the site.